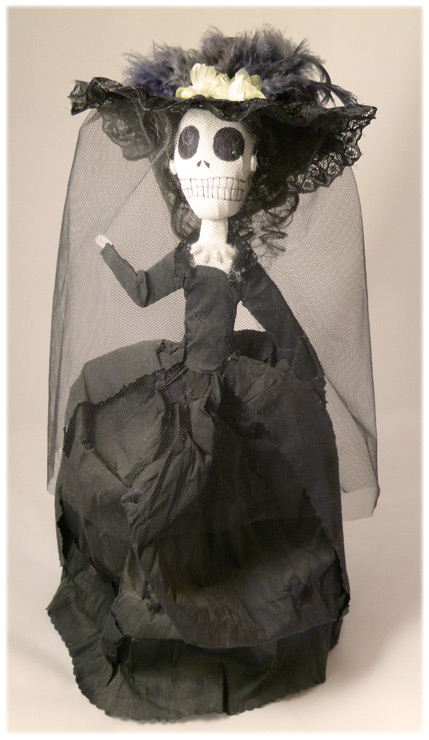 House of Aberrant is privately owned and operated by a couple of life long fans of Halloween, Goth and Horror Movie culture. It was a desire to share our eclectic tastes and interests that initially spawned the idea for this curious shop. A strong appreciation of old school craftsmanship, uniqueness, quality, and vintage styles help drive product selections.
House of Aberrant offers products that appeal to these same interests with additional artistic goods and finds that we believe are complimentary or uniquely appealing. Seeking out and stocking products that we enjoy and wish to share! We do our best to offer reasonable prices even on the most popular items. All our products are brand new unopened merchandise unless specifically noted in the product detailed descriptions. We have outstanding customer service and hope to exceed your expectations of any retail store you may shop.

www.houseofaberrant.com is our main shop site but we do sell some select approved products on Amazon.com, our shop is: www.amazon.com/shops/houseofaberrant. You will notice prices on Amazon are higher, this is due to all the extra fees they collect products are same as on our website. We also sell on occasion at select events, Flea and Framer markets in Southern California, follow us on Facebook to keep in touch.
Newsletter
Subscribe to our occasional newsletter to keep informed of new exciting products we add to the shop and special discounts for subscribers only. We do not sell your information, we do not spam or send very often, maybe once-a-month. You can easily unsubscribe at anytime. We use MailChimp and double-verify subscriptions requests for your protection.
Social Media
It would be cool if you "Like Us" on Facebook, see below and click Like.
Follow us on Twitter too!
Follow our boards on Pinterest: House of Aberrant
Thanks!
We thank you for your visit and hope you enjoy our shop's products. Please feel free to provide product suggestions, reviews or send us a comment, we appreciate any feedback.

If you are a creative person, artist, designer, craftsman or supplier who has a product(s) you think would be great fit in our online catalog, please do not hesitate to contact us, we are always looking for new and unique items to offer our customers.